Construction
Every system that has been implemented in the construction of Union Square supports or enhances your lifestyle and has been designed to meet the highest standards.
By embracing the latest Energy Star products, techniques and designs, Union Square helps set a new standard for the conservation of the environment.
---
The Enegy Star Advantage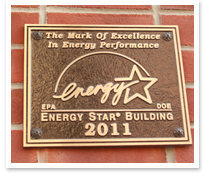 Union Square is the only State of New Jersey "Energy Star Program" approved condominium building in Union City. We are not talking about just using "Energy Star" appliances, but that the entire building is approved! Energy Star is the national symbol for protecting the environment through energy efficiency and is recognized by over 75% of Americans. It also demonstrates a commitment to the environment by reducing pollution and the emissions that contribute to global warming. The energy efficient systems fixtures, and appliances will also reduce the monthly household costs:
Electric lights: Energy efficient fluorescent, LED and low wattage halogen lighting fixtures have been installed throughout all common areas and in the residence.
Appliances: All of the residence's appliances including the Bosch washer/dryers are Energy Star rated and conserve water and electricity.
Toilets: Dual flush toilets reduce water usage
Heating/cooling: The central heating and cooling system is powered by natural gas and is Energy Star rated.